If you are having trouble viewing this email,
click here.

AN IMPORTANT REMINDER FOR EVERYONE
Officiating in youth sports across the country is being confronted with similar fates: a decline in officials due to a lack of respect from adults. Many young officials put their stripes on for the first time, excited and eager to pursue a hockey dream. Just like our kids on the ice playing, they are learning and perfecting their craft. But the dream, too many times, is met with yelling or arguing from adults at rinks.
There is a human element to officiating. Every person that walks into a rink is accountable for his or her actions. As adults, we can set positive examples to our children about how to handle conflict and disagreements, with respect. And at its core, hockey is built on respect.
That handshake line we all love at the end of the hockey games? The stick salute to our opponents? It's all to show respect.
Read more about how we can enact the change we wish to see when it comes to respect, and how we can build a better future for our young officials.
Sled Border Series This Weekend
USA Hockey will host a two-game sled hockey Border Series against Canada on Oct. 29-30 at the Centene Community Ice Center in Maryland Heights, Missouri. Both games will be played on the outdoor sheet of ice at Centene with faceoff at 8 p.m. CT. Tickets are available here and both games will be streamed live on HockeyTV.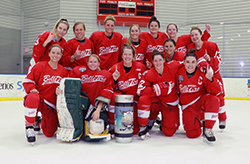 Adult National Championships
Registration will open on November 3rd & 4th, at noon ET for both Men's and Women's National Championships held in Wesley Chapel, Florida.
Men's Nationals | April 7-10
Registration begins Nov. 3 at noon ET
Women's Nationals | April 21-24
Registration begins Nov. 4 at noon ET
Steve Cash Announces Retirement
After 16 seasons backstopping the U.S. National Sled Hockey Team to immense international success, Steve Cash announced his retirement. The netminder has represented the U.S. in four Paralympic Winter Games (gold - 2010, 2014, 2018; bronze - 2006) and eight world championships (gold – 2021, 2019, 2015, 2012, 2009; silver – 2013, 2017; bronze – 2008). 
Make sure to follow USA Hockey on social media for all of your favorite photos, videos, interviews and more. Join the largest hockey family in America, and share your hockey stories with USA Hockey.